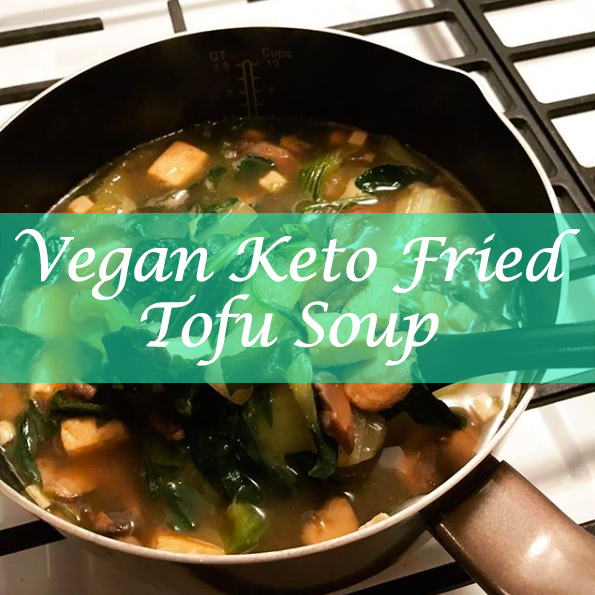 Fried tofu soup is a dinner I make often, and I've gotten a few requests for the recipe on my Instagram. It's vegan, keto-friendly, and delicious, so what more could you want?
I've never followed a recipe when making this, but I decided to keep track of what amounts of ingredients I used. You do not have to follow this recipe exactly! Use the vegetables you have on hand, and feel free to add more. I sometimes add mushrooms, baby corn, and bean sprouts. You can also try a dash of rice vinegar and a sprinkle of monkfruit sweetener. Amounts vary depending on how sour or sweet you want your soup to be, but feel free to experiment according to your own tastes! 
There are many miso soup recipes that use real miso online, but this recipe uses an instant miso soup packet. The brand Edward & Sons makes a vegan miso soup. If you are a pescatarian or an omnivore, you can use Kikkoman Instant Tofu Miso Soup, which contains bonito (fish) and is my brand of choice. If you are using miso paste, 2 tablespoons is a decent amount. Up to 4 will add more flavor if you are less concerned about the carbs. I like to use awase miso by Miko and add Emerald Cove's wakame (dried seaweed), which you'll need if you want seaweed and aren't using an instant miso packet. You can omit the miso entirely if you'd like to lower the net carbs a bit.
Non-vegans can also add additional protein by frying an egg and topping the bowl of soup with it. Adding a drizzle of sriracha to your egg makes it extra tasty! To see all the iterations I've made of this soup, follow @pescatarian.keto on Instagram.
Nutrition information for this vegan keto tofu soup recipe was calculated using Cronometer. Scroll past the related posts to see the recipe.
Vegan Keto Fried Tofu Soup
Prep Time: 15 minutes
Cook Time: 30 minutes
Total Time: 45 minutes
Nutrition Facts
Serving Size: half of this recipe
Calories: 365
Fat: 25g
Protein: 25.9g
Net Carbs: 10.7g
Fiber: 5.2g
Saturated Fat: 3.8g
Ingredients
4 cups vegetable broth
1-2 tablespoons extra virgin olive oil
14 oz extra firm tofu
6 oz baby bok choy
3 oz spinach
8 oz cabbage, shredded or chopped
1 instant miso soup packet OR 2-3 tablespoons miso paste
1 tablespoon soy sauce
Garlic powder to taste
Instructions
Add cabbage to broth and set on medium-low.
In a nonstick pan, cook your shirataki mushrooms in olive oil.
Steam bok choy in a separate pan. Season with garlic and salt.
Cut cubes of tofu that are ¼ inch to ½ inch thick.
Fry tofu in olive oil until cubes are golden brown on each side. Flip tofu using a spatula. Add additional olive oil as needed to prevent tofu from burning.
Add tofu and all vegetables to broth along with the instant miso packet, soy sauce, and garlic powder. Add sriracha to the broth if you prefer spicy soup.
Allow soup to simmer. Serve in bowls and enjoy your vegan keto tofu soup!