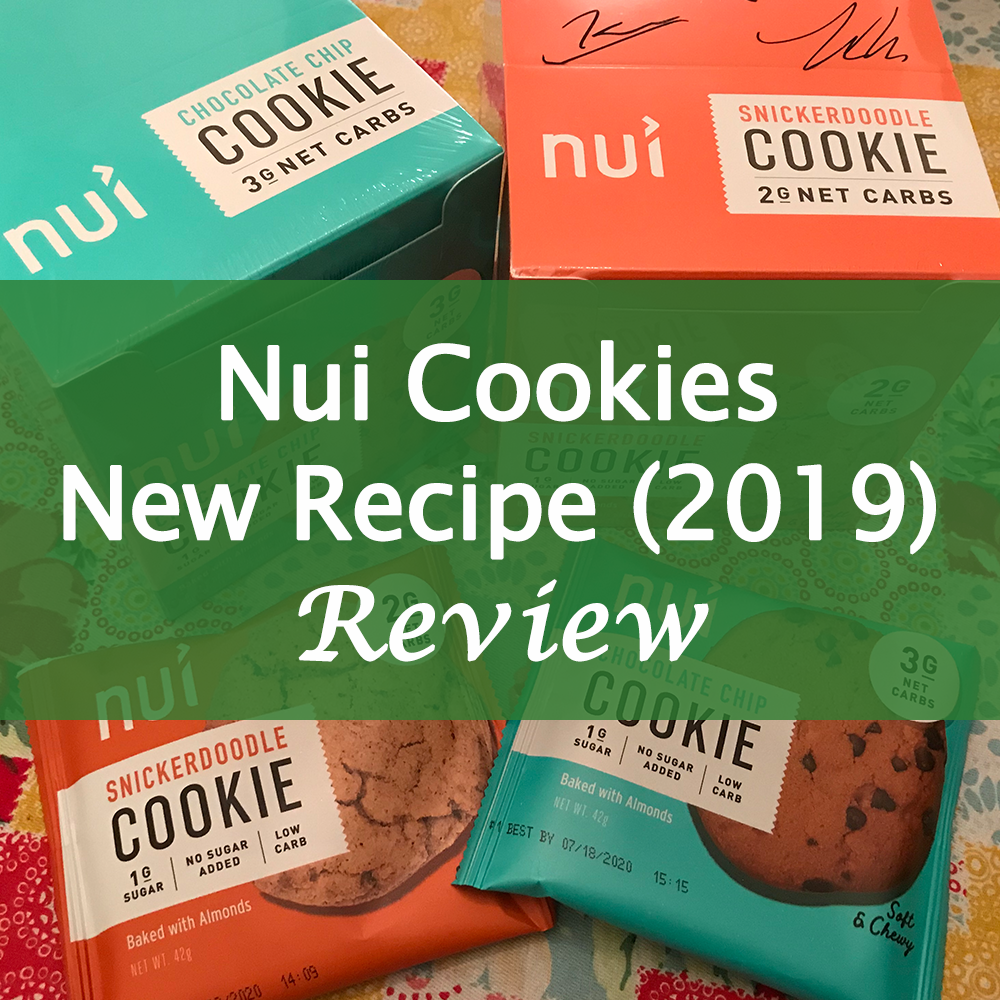 I was first introduced to Nui cookies by the Joe Rogan Experience back when the brand was called Keto Kookie. The keto-friendly cookie company has since changed its name, and in November 2018, Nui was featured on Shark Tank. About a year later, the company announced another big change: a complete reformulation of their recipe.
While the old new cookies came in four flavors, there are only two flavors now, which are Chocolate Chip and Cinnamon Snickerdoodle. My previous Nui cookie review is now outdated because the old recipe is no longer available. Naturally, I had to try the new recipe and share my reaction with my blog subscribers.
Keep reading to learn how the recipe changed and how I thought it compared it compared to the old recipe!
Old Nui Cookie Recipe vs. the 2019 Recipe
There are a few differences between the old Nui cookies and the new recipe:
Nui cookies used to use erythritol, a sugar alcohol, as a sweetener, but now the new recipe uses allulose. If you're trying to avoid sugar alcohols, you're in luck because allulose is not a sugar alcohol. It's a type of sugar found in jackfruit and raisins, and it is keto-friendly.
The company received feedback that the old Nui cookies had a "cooling effect" from the erythritol, but this isn't the case with allulose.
The new cookies have a soft and chewy texture whereas Nui cookies used to be crispy and crumbly.
Nui cookies now contain soluble tapioca fiber, which is a sweetener as well as a true keto-friendly fiber.
While I enjoyed the old Nui cookies, I was definitely excited for the updated version! My own preference is for softer, chewier cookies, so that aspect of the recipe change appeals to me greatly.
Because I ordered two boxes of the old Nui cookies when they were being discontinued, I was sent two free boxes of the new cookies as soon as they launched. I love that the company offers promotions like that! I tried both the Chocolate Chip and Cinnamon Snickerdoodle the same night they arrived on my doorstep, and here's what I thought.
New Nui Cinnamon Snickerdoodle Keto Cookie Review
Nui's Cinnamon Snickerdoodle cookies have 2g net carbs, 15g fat, and 4g protein per cookie. Each cookie is 200 calories. The macros are perfect for a low carb high fat diet, and the carbs are especially low. Of course, while this is very exciting, I know you're all waiting to hear about the taste and texture!
As promised, the cookies do not have a cooling aftertaste. The allulose and soluble tapioca fiber combined create a natural sweetness that makes it hard to believe these cookies are low carb. Even better is the soft, chewy texture. The Cinnamon Snickerdoodles are buttery and delicious, and they remind me of eating cake. Honestly, I was absolutely blown away by how much I enjoyed these cookies. I remember that I enjoyed this flavor when I reviewed the old recipe, but the new version is definitely even better.
New Nui Chocolate Chip Low Carb Cookie Review
Nui's new Chocolate Chip cookies did not disappoint me either. They are soft and chewy just like the Cinnamon Snickerdoodle. The chocolate chips are gooey and rich. It's a real treat when you get a bite that contains a dense cluster of chips. I shared them with a non-keto taste tester who commented that they are similar to Chewy Chips Ahoy! cookies. With 3g net carbs, 4g protein, and 17g fat (and again, 200 calories), these gluten-free cookies also have perfect macros for the keto diet. The Chocolate Chip does have a net carb count that is 1g higher than the Cinnamon Snickerdoodle, but this is a negligible difference and does not make this flavor any less keto-friendly.
I will note that the Chocolate Chip cookie is very soft in the middle but is a bit more browned on the outside than the Cinnamon Snickerdoodle. This aspect of it makes me prefer the Cinnamon Snickerdoodle slightly because I am an appreciator of undercooked cookies. However, the Chocolate Chip cookie is still very delicious! Another low carb chocolate chip cookie I've tried lately is the Lenny & Larry's keto cookie. This cookie is more chewy than it is soft, and while I like the texture, it does have a bit of a cooling aftertaste unlike the Nui cookie. Overall, I think the Cinnamon Snickerdoodle and Chocolate Chip Nui cookies are both excellent, and the soft texture makes all the difference.
Where to Buy Nui Cookies
Nui cookies are available on the company's website as well as on Amazon. Unfortunately, Nui cookies are not sold at Whole Foods. I consider Nui's cookies to be well worth the cost because they are the perfect replacement for traditional cookies made with flour and sugar. With products like this available, sticking to a keto diet and avoiding the temptation from carbs is easy.
Order your cookies today, and leave a comment with your thoughts on the new Nui recipe!
P.S. You can follow @eatnui on Instagram for updates about their keto cookies. Also, check out @pescatarian.keto on Instagram if you want to see plant-based and meat-free low carb meals with the occasional fish!