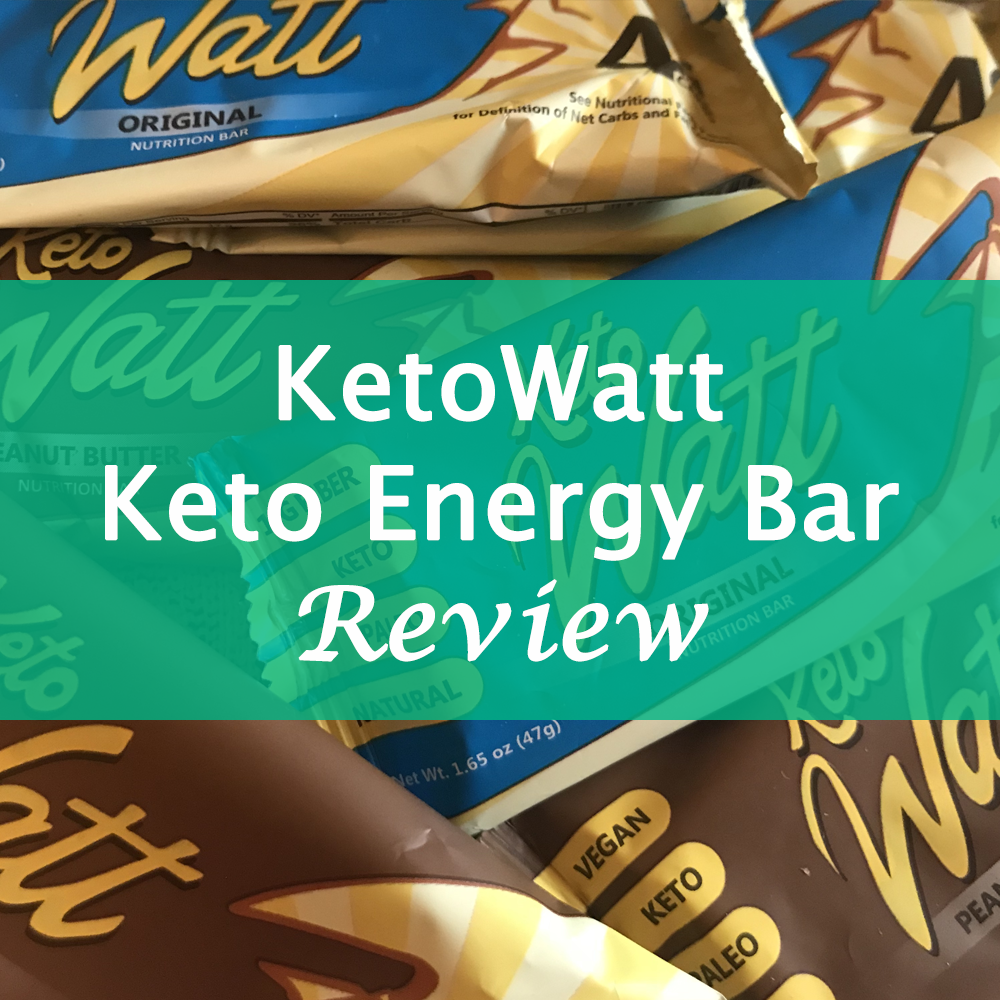 UPDATE 2/23/20: KetoWatt bars are no longer available on the company's website. I will miss these bars as they had many qualities I liked, particularly the fact that they did not use any type of sweetener! However, if you are looking for vegan-friendly keto bars, Love Good Fats bars and Dang bars are both great options. If you are looking for a bar that is paleo-friendly and don't need it to be vegan, I'd try Primal Kitchen's bars.
---
Although I try to focus on eating whole foods as part of my keto diet, I also appreciate the convenience of prepackaged low carb treats and am always looking for new options. When it comes to protein or energy bars, there are a lot of mainstream options due to the current popularity of low carb diets including Quest bars, Atkins bars (now without maltitol!), and SlimFast Keto bars. These can be found in most grocery stores, but many keto dieters are skeptical of these products and don't like the ingredients used.
Meanwhile, if you head to the internet, you have way more options available to you such as Perfect Keto's bars and Keto Bars (which I have reviewed on my blog). These products are better trusted by keto dieters because they are made by companies that focus on keto and are made with higher quality ingredients. KetoWatt is another company creating keto-friendly bars that deserve a taste test. I tried KetoWatt's bars in both the original and peanut butter flavors. While the original flavor contains whey protein, the peanut butter KetoWatt bars are vegan in addition to being low carb, which is a bonus for my many plant-based blog followers. KetoWatt also uses very natural ingredients that include superfoods like flax, chia, and hemp in their bars, which are paleo-friendly.
Here's my review of KetoWatt's original and peanut butter bars so you can decide if you want to stock your pantry with them. (If you're already sold, skip the review, head to KetoWatt's website, and use my discount code PESCATARIANKETO for 15% off.)
KetoWatt Original Flavor: Low Carb Energy Bars with No Added Sweetener
I tried the original flavor first because it seemed like the best place to start. While the name of the flavor doesn't really give it away, the original bar's flavor is essentially chocolate, which is pretty common among keto products. This excited me because I am definitely a chocolate lower; in fact, not a day goes by that I do not consume cocoa in some form.
The first thing I noticed was the slightly chewy texture, which set the bar apart from the firmer Keto Bars and Perfect Keto's bars. Then, I noticed the soft chunks of chocolate throughout the bar that really melt in your mouth. There are also small bits of what I assume is white chocolate. As I ate the bar, I became aware of its sweetness, which had no aftertaste.
Because I didn't see anything I recognized as a sweetener in the ingredients, I reached out to the company and asked what gave the original bars their taste. The answer I got was that there is no sweetener; the sweetness comes from the ingredients and is so subtle that people who don't follow keto may not notice it. Since I've been following a ketogenic diet for about a year, it shouldn't be surprising that I do find the bars sweet, but I was amazed to find them as sweet as I did. They contain 2g of sugar as part of their 4g net carbs, but there is no added sugar. Ingredients such as the coconut contain natural sugar and therefore add a natural sweetness. I'd love to see more low carb treats go this route and not rely on sweeteners.
I assumed the coconut probably at least played a role in making the bar sweet since I noticed nothing I recognized as a sweetener in the ingredients, but I found my myself amazed that it could taste as sweet as it did (in a good way) without a true sweetener. I wondered if one of the ingredients I was less familiar with could act as one. I guess it didn't seem subtle to me because I'm used to eating keto food now!
Overall, I find the taste of the bar impressive and am delighted to see the ingredients list. While chocolate, almond, and coconut are fairly standard ingredients in keto products, KetoWatt has added a few that are more unique. The original bars include flax and chia seeds, which deliver essential omega-3 fatty acids. I also guessed that the chia seeds might play a role in what I perceived as sweetness, but a quick search for "Are chia seeds sweet?" tells me that others do not see chia seeds the same way I do. Their flavor is described as nutty and mild. However, I maintain that the taste of chia in the bar is one of the reasons I find it extremely palatable despite the lack of a sweetener.
Additional ingredients include maca powder, green tea, and algae—specifically, spirulina and chlorella. I've read a lot about the health benefits of algae supplements and have also reviewed the spirulina tablets by ENERGYbits. The bars have excellent macros with 17g fat, 8g protein, and 4g net carbs.
KetoWatt Peanut Butter Bars: Vegan Keto Protein Bars
The original KetoWatt bar includes a protein blend with grass fed whey protein concentrate and collagen hydroslate, but the peanut butter bar by KetoWatt is both keto and vegan. That makes this bar great for many readers of this blog who eat plant-based keto diets. Keto Bars are vegan as well, but a vegan keto diet can be very restrictive, so it's beneficial for those following it to have as many convenient options as possible available.
Another difference I noted before trying the peanut butter KetoWatt bar is that unlike the original flavor, the peanut butter bar uses stevia as a sweetener. I have no issue with sweeteners, but those who are trying to avoid them may want to stick with the original bar. When I first tried the bar, I paid attention to its sweetness and how it compared to the original flavor. The sweetness is not overpowering, but it is more immediately apparent whereas the sweetness of the original bar builds.
One unique aspect of this bar is that it does not include regular chocolate like many other peanut butter bars; however, it does contain cocoa butter that creates the effect of white chocolate chunks throughout the bar. There are also a few whole peanuts in the bar. The KetoWatt peanut butter bar has no flax or chia seeds, but it does contain hemp seeds, which have an excellent ration of omega-3 to omega-6.
The peanut butter bars have 4g net carbs like the original flavor, but they have 14g fat (slightly less) and 10g protein (slightly more). The added protein is definitely excellent for anyone following a vegan keto diet who needs additional low carb sources of protein.
Out of the two bars, the original is my favorite flavor. I am a chocolate lover, and I also really appreciate the texture from the coconut and chia in the chocolate flavor. The peanut butter bar's texture is very smooth and uniform by comparison except for when you hit the white chocolate or a peanut. That said, both bars are tasty and use optimal ingredients, and others may prefer the peanut butter bar because it is vegan and has a different type of sweetness.
Where to Buy KetoWatt Bars [+15% Off Discount Code]
KetoWatt bars are available on the company's website, where the original flavor is on sale for $25.00 (at the time of writing this article), and the peanut butter flavor costs $29.99. Each box contains 12 bars, and the company also offers samples of each flavor for $4.99 if you want to try the bars before you commit. You can get 15% off your order using my discount code PESCATARIANKETO.
You can also purchase KetoWatt bars on Amazon, where the original flavor costs $19.99, and the peanut butter bars cost $29.99.
Have you tried KetoWatt's low carb bars? Which flavor did you like better? Tell me your thoughts in the comments section below!