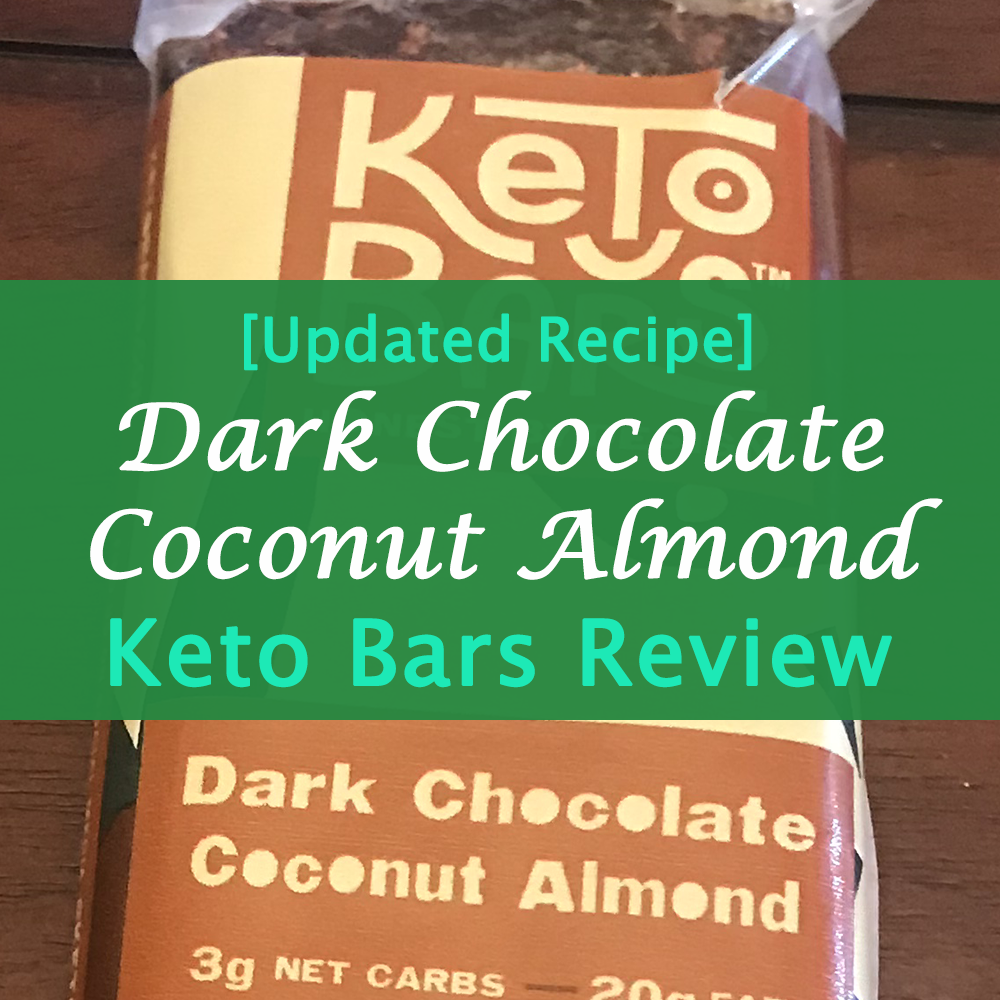 In December 2018, the company Keto Bars sent out an email announcing a new flavor called Dark Chocolate Coconut Almond. This flavor would replace their original and best-selling Dark Chocolate Coconut bar. My first reaction was apprehension. I was a big fan of the Dark Chocolate Coconut bars, as I stated in my first Keto Bars review. However, I was willing to give them a chance, so I ordered a box. I enjoy sugar-free protein and energy bars in general, and some of my favorites are the new Atkins bars without maltitol (especially in Chocolate Peanut Butter), the Slimfast Keto bars, and Perfect Keto's bars. If I'm being honest, I'm obsessed with sweets and rarely find a keto-friendly treat I truly dislike, so I wasn't likely to hate Dark Chocolate Coconut Almond.
In this post, I'll explain why Keto Bars changed their original flavor and also share my review of these new Keto Bars. If you want to skip the review and order a box of Keto Bars now, make sure you use the discount code PESCATARIANKETO10 for 10% off.
Why Did Keto Bars Change Their Dark Chocolate Coconut Bars?
The email communication about Keto Bars changing their flavor included a video from the company's founder, Jon Hart. I'm more likely to read an article than watch a video, so I didn't bother watching the video until after I'd tried the flavor.
In the video, Jon explains that this change was a long time coming because the Dark Chocolate Coconut bar didn't have the shelf life he wanted and needed. He also wanted more consistency in texture across the bars, which was something I'd suspected as Dark Chocolate Coconut was gooier and wetter than the newer Chocolate Peanut Butter and Mint Chocolate flavors. Keto Bars changed the name of the flavor because as Jon states, the almond taste definitely comes through.
Ultimately, shelf life was the biggest reason for the recipe change. Jon acknowledges in the video that there's a reason treats you make at home always taste better than prepackaged products, but those treats have a much shorter shelf life. Along with adding almond butter, the company also removed butter and heavy cream from the ingredients. Jon admits this was painful to do because butter and heavy cream are so amazing, and I agree, but I understand that these ingredients are less shelf-stable than the ideal. I want to see Keto Bars grow as a company and get their products in front of more people, and this trade-off is necessary for that to happen. Also, the removal of butter and heavy cream makes Dark Chocolate Coconut Almond a vegan keto bar and gives those following a plant-based diet a convenient option to supplement their diets. (The Peanut Butter, Mint Chocolate, and Chocolate Covered Strawberry flavors are vegan keto as well.)
That said, there's still a part of me that wishes I had bought a bunch of the original bars and stored them in my freezer to get around the expiration date. Of course, that's a better argument for why I should make more homemade treats, but I am lucky that there are so many companies making great keto products for when I don't have the time.
Dark Chocolate Coconut Almond Keto Bars Review
Now that you have some context for the flavor change, I'll give you my thoughts on the taste and texture of the Dark Chocolate Coconut Almond bar. I first noticed that it was denser, making it more similar in texture to the other flavors as Jon noted. I really enjoyed that the original Dark Chocolate Coconut was very soft and a bit oily, but knowing about the shelf-life concerns makes me more accepting of this difference.
I did not find the almond to be overpowering although it was noticeable, and overall, the taste was as sweet and delicious as ever. The sweetness was also something I noted in my original Keto Bars review. Keto Bars may not be right for you if you have gotten used to eating mostly protein and veggies on keto and no longer desire a sweet taste from your food, but I know there are many other keto dieters who enjoy the indulgence as well as the convenience of snacks like this. The dark chocolate is rich, and the coconut adds a slightly crunchy texture just like in the original bar.
The new flavor has 227 calories, 20g of fat, 6g of protein, and 3g net carbs. There are 15g total carbs, but you can subtract 7g of fiber and 5g from erythritol. It is worth noting that the original Dark Chocolate Coconut had only 2g carbs, and this increase might annoy some customers. However, 1g of carbs is unlikely to have a significant impact on your diet.
Where to Buy Dark Chocolate Coconut Almond Keto Bars [+10% Discount Code]
You can buy Dark Chocolate Coconut Almond Keto Bars on the company's website, and you can get free shipping if you order more than one box. Dark Chocolate Coconut Almond, Mint Chocolate, and Chocolate Peanut Butter all come in 10-packs for $24.95 each. You can also get an assortment of the three flavors in the 10-bar sampler pack for $25.95 (only one dollar more). When you place your order, enter the code PESCATARIANKETO10 for 10% off.
Keto Bars are also available to order through Amazon Prime for $29.95. Note that this makes the bars $5 more expensive than on the company's site, but shipping is free with Prime, and you will have to pay $4.99 in shipping if you only order one box directly from Keto Bars (but my discount code should help).
Have you tried the new Dark Chocolate Coconut Almond Keto Bars? How do you think they compare to the original flavor? Share your thoughts in the comments section!