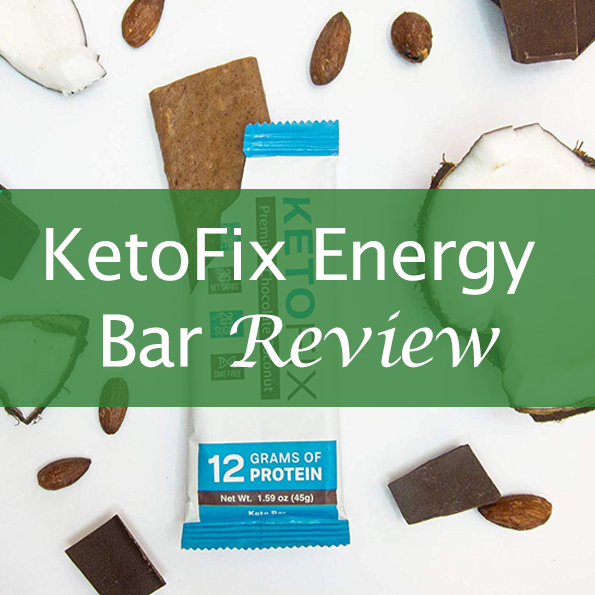 As the popularity of the keto diet increases, more keto bars are entering the market to replace high-carb energy and protein bars. KetoFix was founded in Montreal, Canada, and the company creates bars that are intended to satisfy cravings with healthy fats. At the time of writing, KetoFix has launched one flavor, which is called Premium Chocolate Coconut. The bars are advertised to contain quality ingredients that won't knock dieters out of ketosis. I tried KetoFix's bars and will discuss the ingredients, macros, flavor, and texture as well as where to buy the bars in this review.
KetoFix Bar Ingredients
KetoFix bars are free from artificial sweeteners, dairy, soy, and corn fillers. The ingredients are Organic Almond Butter, Grass Fed Whey Protein Concentrate, Chicory Root Fiber, Organic Coconut, Almonds, 100% Cacao Chocolate Chips, Sunflower Lecithin, Organic Vegetable Glycerin, Cacao Butter, Erythritol, MCT Oil (from coconut), Organic Cocoa, Natural Flavors, and Sea Salt.
Macros
Because KetoFix bars are intended for the keto diet, they are high in fat (15g per bar) and low in carbs (3g net carbs per bar). While many keto bars are fairly low in protein compared to typical protein bars, KetoFix bars have 12g of protein, making them a good choice before or after a workout. A lot of keto bars have 4g net carbs, so the fact that KetoFix bars have only 3g is definitely a bonus. A single gram of carbs is a small difference, but for people who are following a strict diet of 20g or fewer carbs a day, every gram feels like a big deal.
How Do KetoFix Bars Taste?
Based on the name of KetoFix's Chocolate Coconut flavor, I expected something similar to Primal Kitchen's Chocolate Coconut protein bars. I like chocolate coconut, but I was pleasantly surprised to find that the KetoFix bars are more like chocolate chip or even chocolate chip cookie dough. They reminded me of Perfect Keto's Chocolate Chip Cookie Dough bar.
While coconut is in the title of the flavor, I did not find them to have an overpowering coconut taste. This may be because I am used to consuming so many keto products that use coconut as a prominent ingredient.
Sweetness Level
Something I like about KetoFix bars is that they use erythritol just like many keto bars, yet they do not have a strong sugar alcohol taste. The cooling aftertaste commonly associated with erythritol was absent for me. If you have recently switched to keto from the Standard American Diet, you may find yourself wishing KetoFix bars were sweeter, but I personally think the sweetness is perfect. Other brands of bars that have similar flavors such as Love Good Fats and Perfect Keto taste sweeter and more like sugar alcohols. Which bar is the best depends on your preferences.
The bars contain bits of almonds as well as cacao chips that are wet and melty. These can be messy but are very delicious if you like 100% cacao. If your palette isn't fully adapted to a keto way of eating and you prefer intense sweetness, you may not like the cacao as much.
Texture
A lot of keto products have what I'd describe as a "chalky" texture rather than being chewy. If you're not a vegetarian and have tried the Bulletproof collagen protein bars, those are an example of a keto bar that is very chalky. I don't have a problem with this, but I am partial to bars that are more chewy. KetoFix bars are not exactly chewy, but they are significantly softer in texture than the Bulletproof bars.
I sometimes noticed that the outside of the bar would become oily due to the MCT oil, which added a bit to the messiness factor. That said, it's common for energy bars to be messy in some way, and KetoFix bars do not generate a significant amount of crumbs because they are not crunchy.
Where to Buy KetoFix Bars
KetoFix Premium Chocolate Coconut bars are sold on Amazon in a 12-pack for $39.94, making them $3.33 per bar. They are also sold on KetoFix's website for the same price. While some more mainstream products are available at lower costs, I found KetoFix bars to be unique due to their subtle sweetness and preferred them to many options I've tried. For instance, by comparison, Quest bars and Atkins bars taste strongly like sugar alcohols and use ingredients that are less pure although they are low in carbs and cost.
Ultimately, even if you don't normally like erythritol as a sweetener, I'd give KetoFix bars a shot. The bars have great macros, taste delicious, and use quality ingredients just as the company claims. Have you tried KetoFix's bars, and how did you think they compared to other keto-friendly products? Share your thoughts in the comments!