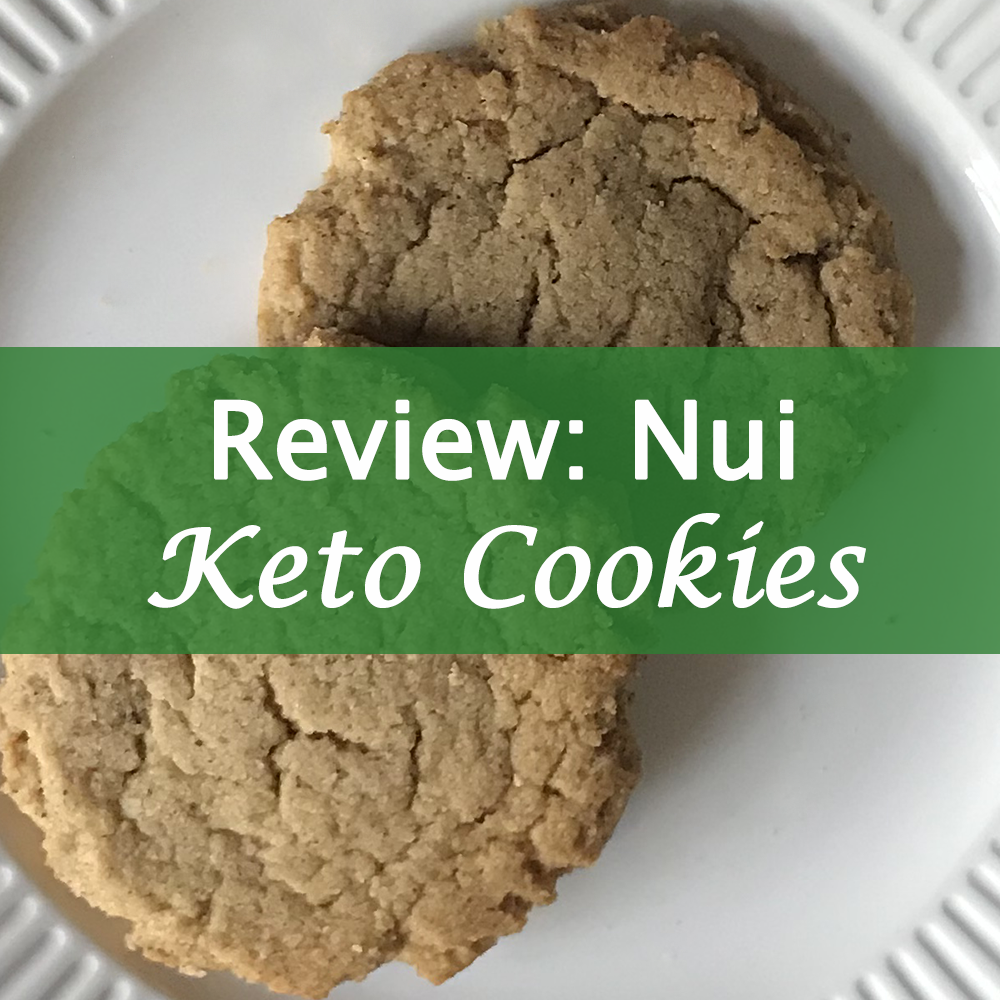 Update 12/2/18: The keto-friendly cookie brand Nui appeared on an episode of Shark Tank that aired Sunday, November 25, 2018. I love Shark Tank and have reviewed other keto-friendly products that I discovered on the show show such as Wink Frozen Desserts and ENERGYbits spirulina. I originally found out about Nui because they were mentioned in Joe Rogan Experience #994, but they will now be known by a way larger audience as those keto cookies from Shark Tank.
Nui Cookies accepted $300,000 from Alex Rodriguez for 25% of the company. I hope that Nui's success grows (and I'm sure the exposure alone will help a lot) because as you will see from my review, the cookies are very tasty and have great macros!
---
When I first tried Nui cookies, the company was known as Keto Kookie, but they changed their name in May 2018 to appeal to a wider market than just the keto community. These low carb high fat cookies come in four flavors, which are:
Update 7/5/18: Nui has added a fifth flavor and released it on Amazon. I've tried this tasty flavor, which is Birthday Cake, although I have not added it to my review yet. I have also tried Chocolate Chip. Double Chocolate and Cinnamon Snickerdoodle remain my favorites!
The flavors I will be reviewing are Double Chocolate and Cinnamon Snickerdoodle. Nui cookies are recommended by ketone researcher Dom D'Agostino, and many keto dieters swear by them. Keep on reading to learn more about Nui cookies including the nutrition facts, what Dom D'Agostino and Joe Rogan say about them, what I thought of them, and how you can buy them.
Nui Cookies on Joe Rogan Experience #994 – Dom D'Agostino
I learned about Nui cookies (then called Keto Kookies) from JRE #994 with Dom D'Agostino. Dom discussed a number of keto products in that episode including Wild Planet sardines and ENERGYbits spirulina algae tablets, which I've also reviewed.
Dom brought the cookies for Joe to try and explained that he vets out what impacts his blood glucose and ketone levels. He's usually skeptical when people send him products, but he loves these cookies and considers them keto-safe. In fact, while these cookies sweetened with erythritol and monk fruit are advertised as having a low glycemic index, Dom says they basically have no glycemic index for him. He describes how he ate six of the cookies (three packets) in one sitting and didn't have a glycemic response. For him, these cookies are a keto comfort food. Plus, he likes that they are substantial and contain a  lot of fat. You can find more information about the ingredients on the Nui website.
"Where's the cookie, bro?"
About one hour and 32 minutes in, Joe Rogan is eating a Nui cookie (I'm not sure of the flavor) and says, "These cookies are like a mirage. It's like, you hold them, they have weight, they look like a cookie. You bite into them, you're like, 'This is gonna be like eating a cookie,' and then you're chewing it, and it's almost like it vanishes. Like fairy dust. In front of your eyes."
"But it's good though, right?" says Dom.
"Yeah, it's great, no, no, don't get me wrong," says Joe. "I'm not saying it's a mirage like they're bullshit. I'm saying, like, um, it's a very strange texture to them, 'cause obviously there's no grain, and there's something about eating them and chewing them where your body goes, 'Hey, uh, what, did you fuckin' lie to us? Where's the cookie, bro?' Like it tastes good but there's something about chewing it and eating it, it's like, it vanishes."
Now, this was my introduction to hearing that keto cookies exist at all, and while I was still eager to try them because I like unique foods, Joe's comments did set me up for the expectation that keto cookies would be significantly different from regular cookies. Then I tried KNOW cookies and Fat Snax and now Nui, and I was very pleasantly surprised. I don't think the texture created by almond flour is radically different than that of an traditional cookie. The taste and texture tends to be different, yes, but just not as different as Joe made it out to be.
By the way, Joe Rogan really enjoys KNOW cookies, which he mentions on JRE #1037 – Chris Kresser. Later in this review, I'll compare Nui cookies to KNOW cookies.
Double Chocolate Nui Cookie Review
Double Chocolate was the first flavor of Nui cookies that I tried. According to the nutrition facts on the Double Chocolate Nui cookies, a serving (two cookies) contains 212 calories, 20g fat, 6g protein, and 3g net carbs. Total carbs are 19g, but 4g are from fiber and 12g are from sugar alcohol. The chocolate chips used in the Double Chocolate and Chocolate Chip flavors contain erythritol and monk fruit.
When I bit into my first Nui cookie, I immediately noticed how sweet it was. For me, this is definitely a positive. However, if you are used to eating keto treats, you may not be accustomed to such an intense level of sweetness. The only other LCHF product I've tried that rivals the sweetness of Nui would be Keto Bars. The flavor of the chocolate is also very rich, which I enjoy.
Are these cookies like a mirage? I've tried to understand exactly what Joe Rogan meant. I kind of get it, but not really. The cookies do dissolve in your mouth, leaving behind a taste of extreme sweetness, but at no point is my body asking, "Where's the cookie, bro?"
Cinnamon Snickerdoodle Nui Review
For my second box of Nui cookies, I decided to try Cinnamon Snickerdoodle. A lot of keto treats I've tried or baked myself are either chocolate or contain chocolate chips, so I was excited by the prospect of mixing it up a bit. The macros for the the Cinnamon Snickerdoodle Nui cookie are slightly different than those for the double chocolate. I was delighted to see that the carbs were a bit lower with only 2g net carbs per two cookies. However, I do have to note that I was confused by a discrepancy between the macros advertised on the package and the macros on the actual nutrition label. The nutrition facts suggest that there are 21g total carbs and 3g net carbs.
That aside, the taste of these cookies is scrumptious. The texture may be slightly softer than that of the Double Chocolate Nui cookies. Certainly, the cinnamon flavor stands out, and second to that, I notice the taste of vanilla and butter. Without the solidity that the chocolate chips add, I can relate to Joe Rogan's "Where's the cookie, bro?" comment a bit more, but I still don't have a problem with the way these cookies melt in my mouth.
Although I am used to keto treats and may not be the best person to comment on this, I felt that the Cinnamon Snickerdoodle was tasty on the level of a traditional cookie made with sugar. I may like these better than the Double Chocolate, but that could be because they're new to me at this point. After eating the second cookie, I definitely crave a third, though I haven't given in yet.
Nui Cookies vs. Fat Snax
The only flavor of Fat Snax cookies that I've tried so far is the Chocolate Chip, so I should really try the Chocolate Chip Nui cookies in order to be able to compare the two brands. However, I can note that Nui cookies are slightly lower in net carbs. They're also sweeter (I mean, these things are sweeter than everything) and moister.
For my reaction to Fat Snax cookies, you can read my Fat Snax review.
Nui Cookies vs. KNOW Cookies
I think the biggest different between Nui and KNOW Better Cookies is that Nui cookies are way sweeter and more like a regular cookie whereas KNOW cookies are a bit more savory. The individual KNOW cookies are also significantly bigger. I like that KNOW cookies are so big and substantial, but at the same time, it may be a bit too much cookie. Yeah, you don't have to eat the whole cookie at one time, but usually once I start it, I want to finish it. For me, the 200 or so calories of two Nui cookies is a better serving size for an after-dinner treat unless I've eaten a smaller dinner.
To learn more, check out my KNOW cookies review.
Can You Buy Nui on Amazon? Where to Buy Nui Cookies
Nui cookies are not available on Amazon. To order them online, you need to head over the the Nui official website. In my experience, they sometimes go out of stock quickly, so if you're craving a particular flavor, it's best to order it as soon as you can! You can sign up to be emailed when a flavor becomes available again, which usually doesn't take very long, but I'd still act quickly if a flavor I really wanted was in stock.
Nui cookies come in packages with 10 packets of cookies (20 cookies total) for $29.95.
Nui Cookie Discount Code
Looking for a Nui promo code? Just visit the Nui website and click around until you see a popup offering you a 10% discount. This helps to cover the cost of shipping.
I'm excited to eventually try the other two flavors, and I definitely recommend trying Nui cookies for yourself. They're quite tasty, and while a lot of keto food is perishable, it's easy to take keto cookies with you on the go. Plus, it makes the diet more enjoyable if you miss sweets. Of course, there is also something to be said for avoiding sugar alcohols and just focusing on eating whole foods, but for many people, having keto treats makes it easier to stick to the diet.
Have you tried Nui keto cookies? Do you think they're like a mirage? Which flavor should I order next? Feel free to leave a comment below!