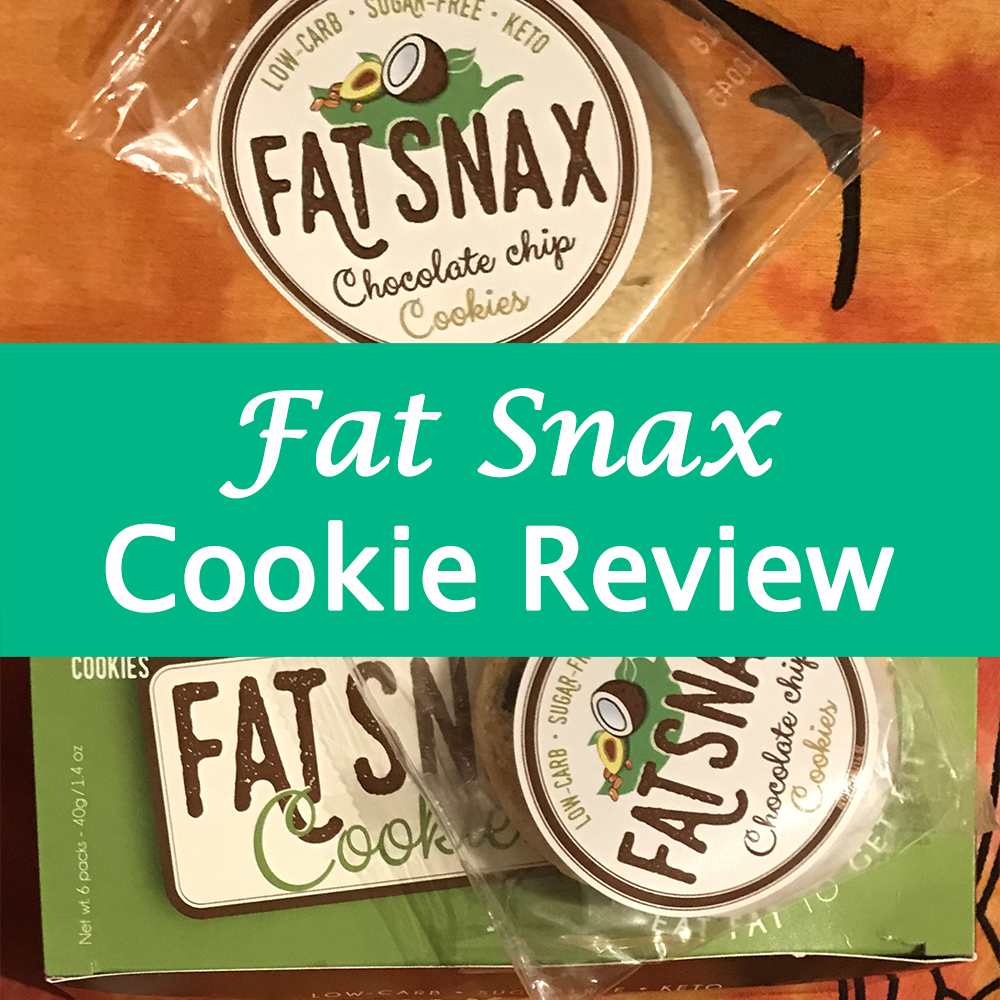 UPDATE 2/23/20: Fax Snax has changed their packaging since my review, making the photos I use outdated. KNOW cookies also changed their packaging and the size of their cookies at some point, and currently, I am unable to find KNOW cookies anywhere. Please enjoy my Fat Snax review knowing that it was written in 2018!
It's safe to say that I am a bit addicted to trying and reviewing keto cookies. I've written about KNOW Better Cookies and Nui cookies (formerly called Keto Kookies), and this review focuses on Fat Snax cookies. Like the other two brands, Fat Snax are high fat, low carb cookies formulated for the keto diet. Admittedly, I have only tried one flavor of Fat Snax cookies, which is the chocolate chip. Therefore, my Fat Snax review is not as complete as my other reviews.
At this time, I don't have plans to order more flavors Fat Snax cookies, but I'm likely to try the variety pack at some point in the future and update this review. Anyway, keep reading for my reaction to Fat Snax keto cookies as well as a comparison with KNOW cookies!
Fat Snax Review – Chocolate Chip
The Fat Snax Chocolate Chip keto cookie
is almost so similar to a normal chocolate chip cookie that it's not immediately obvious this is a keto cookie. There's definitely something "off," though. Perhaps it's a little drier than a traditional cookie, but that doesn't mean I'm leaving a negative review! I definitely enjoy eating these cookies. The chocolate chips are extremely rich, and they stand out compared to the somewhat plain cookie. The cookie is very soft, and while it's not thick, it's almost more like eating cake than a cookie. I fed the Fat Snax cookies to someone else who described them as "marshmallowy," which seems pretty apt.
A serving is one cookie, yet they come in packs of two cookies. It is worth noting that the cookies are small, and one is only 90 calories. The macros per cookie are:
8g fat
2g net carbs
2g protein
As I worked my way through my box, I always ate the two cookies contained in the pack at once, so the macros and calories were doubled. The sweeteners used are erythritol and stevia. You can view a photo of the Fat Snax nutrition facts and ingredients on Amazon.
Where to Buy Fat Snax Keto Cookies
On Amazon, you can buy a 12-cookie box of Fat Snax chocolate chip cookies
, which contains six two-packs for $22.98. You can also get 24 cookies (12 two-packs) for $34.99
, which is a much better deal (and is an option for all flavors).
Other flavors available (which I have yet to try) include:
Fat Snax vs. KNOW Cookies: Which Keto Cookie Is Better?
In order to determine which keto cookie is superior, I evaluated four factors of Fat Snax and KNOW cookies:
Which is tastier? I think KNOW has the tastier keto chocolate chip cookie. The Fat Snax cookies have amazing chocolate chips, are nice and soft, and maybe resemble a traditional cookie more, but they are a bit dry. Overall, I enjoy eating the KNOW Better cookies more, but not everyone feels the same. I've seen an Amazon review of KNOW cookies stating that they have the texture of a dry bran muffin.
Which brand has better macros? Eating two Fat Snax cookies gets you to 4g of net carbs for about half the calories of an entire KNOW cookie, which also has 4g carbs, so the KNOW cookies are lower in carb overall, while the fat content is equal.
Which is sold at a better price? A box of 12 Fat Snax cookies ($22.98) is equivalent to a box of 4 KNOW cookies ($10) in terms of calories and nutritional content, so KNOW cookies give you a better bang for your buck at less than half the cost.
Which has better ingredients? KNOW Better cookies contain "superfoods" such as flaxseeds and chia seeds, and they have more protein than Fat Snax cookies. Therefore, when I eat a KNOW cookie, I feel like I'm getting more nutritional benefit.
Because of the price, nutritional content, and taste of KNOW Better cookies, I ended up trying all four flavors of KNOW cookies whereas I didn't order more Fat Snax after the Chocolate Chip. If the Fat Snax cookies were lower in price, I'd be more likely to continue buying them. The Ginger Turmeric flavor definitely sounds interesting to me. My KNOW Better Cookie review contains my reactions to all four of the KNOW flavors, so I recommend reading it to learn more. I also compare Nui cookies to Fat Snax in my Nui review.
Don't take my word for it, though! You may have a different brand preference, so I suggest you read reviews and order the cookie that seems right for you. You could also try all three brands of keto cookies yourself, which is sure to be enjoyable as they are both tasty.
Have you tried any of the flavors of Fat Snax cookies? What did you think? Which brand of keto cookies is your favorite? Let me know in the comments!