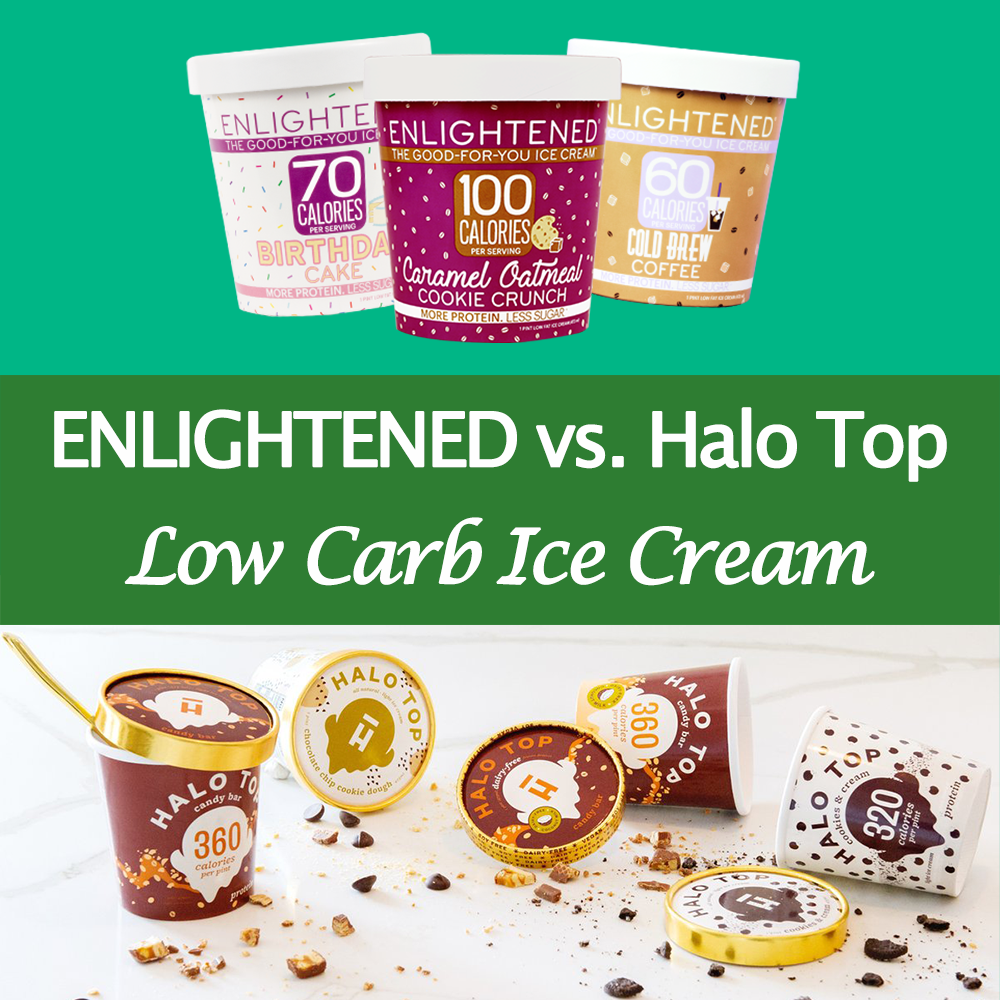 UPDATE 5/28/20: ENLIGHTENED has released a new line of keto-friendly ice creams that advertise the net carb counts on the pint. While the keto line is not as low in calories as the regular flavors, it is significantly easier to fit into your macros. I recommend the Red Velvet! Halo Top has also released a keto-specific line, and the pints are lower calorie than the ENLIGHTENED keto pints although they are higher calorie than regular Halo Top. Other brands that are intended to be keto-friendly rather than low calorie like Rebel Ice Cream have also emerged since I wrote this article, so I suggest looking beyond ENLIGHTENED and Halo Top for low carb ice cream options!
UPDATE 7/28/19: ENLIGHTENED has changed their packaging as well as some of their nutrition facts since I wrote this post. Flavors like vanilla and cold brew coffee that previously advertised 60 calories per serving now have 70 calories per serving. The differences are minor, but the reddit post that I embedded is no longer completely accurate, so I will need to revisit this most. Before buying any products, make sure you check the labels to confirm that you can fit them into your diet!
---
To the rejoice of keto dieters everywhere, a variety of low carb ice cream options have recently come onto the market. These include Halo Top and ENLIGHTENED Ice Cream. Halo Top is by far the most popular. In fact, it has been outselling traditional ice creams in American grocery stores. The lowest carb flavors of Halo Top have only 6g of net carbs per 1/2 cup serving and can certainly fit into a keto diet. However, it's hard to fit an entire pint into your daily macros even if you're eating one of the lower carb flavors, and some flavors have as many as 8-10g net carbs per serving. To learn more, check out What Is the Lowest Carb Halo Top? Here's Every Flavor Ranked by Net Carbs.
If you're not thrilled by the carb content of Halo Top, you may want to check out ENLIGHTENED Ice Cream. Keep reading to find out how ENLIGHTENED Ice Cream can fit into a keto diet and how it compares to Halo Top in terms of net carbs.
Is ENLIGHTENED Ice Cream Keto?
Most flavors of ENLIGHTENED Ice Cream can easily fit into a keto diet, especially with the lowest carb flavors containing 3g-5g net carbs per 1/2 cup serving. It's best to be careful about calculating your daily macros if you plan to indulge in ENLIGHTENED and eat more than a serving.
All the keto ice creams available on the market are primarily designed to be low in calorie rather than keto-friendly, so they tend to be low in fat. If you're seeking a low carb, high fat keto ice cream, your best bet is to make your own.
What Is the Lowest Carb ENLIGHTENED Ice Cream Flavor?
With 3g net carbs per 1/2 cup serving (and only 12g net carbs for the whole pint), Chocolate Peanut Butter is the lowest carb flavor of ENLIGHTENED Ice Cream. None of the other flavors are quite as low, but a few come close. A kind user on reddit ranked the ENLIGHTENED Ice Cream flavors by net carbs to help out fellow keto dieters. You can compare the following chart to my ranking of Halo Top flavors by net carbs.
All Enlightened Ice Cream Flavors – Sorted By Net Carbs from keto
ENLIGHTENED vs. Halo Top Ice Cream
ENLIGHTENED's Chocolate Peanut Butter is only half the net carbs of the lowest carb flavors of Halo Top. The flavors with 4g and 5g net carbs per serving are also lower in carb than any flavor of Halo Top. However, the flavors of ENLIGHTENED with 6g-9g net carbs per serving are comparable to Halo Top.
Aside from the carb count, some keto ice cream eaters prefer the flavor and texture of ENLIGHTENED to Halo Top. If you read the r/keto reddit thread on ENLIGHTENED referenced above, you'll see that some users say ENLIGHTENED tastes more like traditional ice cream. However, other users do prefer Halo Top overall or at least prefer certain flavors. The best way to find out for yourself how these two low carb ice creams compare in terms of flavor is to try them out for yourself. Just make sure you've accounted for them in your daily macros. Another benefit of ENLIGHTENED is that the company makes convenient ice cream bars, whereas Halo Top does not.
Both Halo Top and ENLIGHTENED recommend that you let your pint thaw a bit before enjoying it so the low carb ice cream will become creamier. Personally, I don't like to let my pints thaw because I enjoy frozen textures (I love chewing ice cubes). Plus, the softer the ice cream gets, the faster I eat it, and the more I risk consuming too many carbs. However, I should note that ENLIGHTENED's Chocolate Peanut Butter (the only flavor I've tried as of 4/22/17), is very, very frozen. I find it to be way more solid than any Halo Top. Like, you may end up bending your spoon if you try to eat it right out of the freezer, but seriously, I don't let this stop me from doing it anyway.
Where to Buy ENLIGHTENED Ice Cream
ENLIGHTENED Ice Cream isn't available in quite as many stores as Halo Top (which is even in convenience stores and drug stores). However, I've found it at mainstream stores including Whole Foods and Target. If you can't find ENLIGHTENED at a local store, you can order it on Amazon. IceCreamSource.com also lets you buy ENLIGHTENED low carb ice cream online.
What's your favorite flavor of ENLIGHTENED Ice Cream? Do you prefer it to Halo Top? Share your thoughts in the comments!