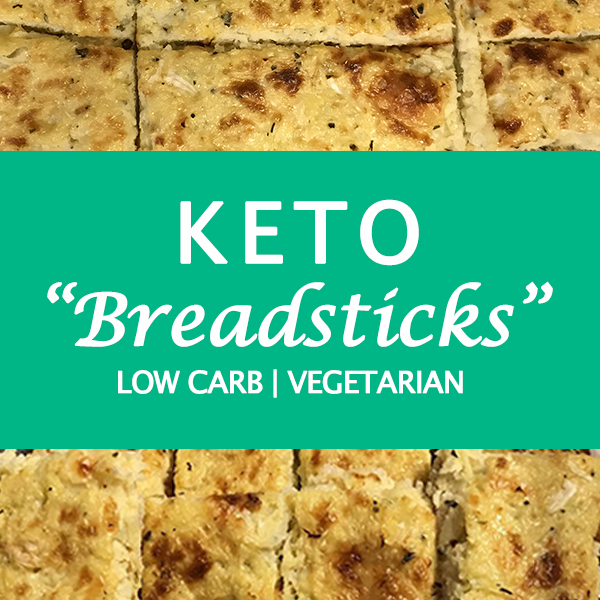 Missing breadsticks on the keto diet? With some mozzarella cheese and cauliflower (and a few other simple ingredients), you can make a tasty replacement that is way better than any bread! I'm not totally sure what I should call these. Are they cheesy keto breadsticks? Keto cauliflower sticks? Mozzarella sticks? Technically, they are sticks made with mozzarella, but I typically associate that term with breaded mozzarella.
The first time I made keto cheesy cauliflower breadsticks, I did it the lazy way after consulting a couple of recipes for inspiration and then totally winging it in the kitchen.
Here are some of the recipes that inspired me:
I've since perfected my recipe, though I occasionally change up the cheeses and spices.
A Few Notes About My Keto Cauliflower Breadsticks
I apologize that I do not have exact measurements of the spices! I recommend spicing according to your own tastes. If you cook a lot, this won't be an issue, but I may update this recipe with exact amounts if I ever pay more attention while making cheesy cauliflower breadsticks.
One of my favorite variations of these keto breadsticks involves using a Mexican cheese blend instead of mozzarella and different spices including paprika and jalapeño powder. These are amazing when served with guacamole!
The default mozzarella-based version of this recipe would be good with a low carb tomato sauce dip, although I haven't actually tried this yet.
I definitely recommend that you check out other similar recipes and experiment with the ingredients for the perfect keto cheesy breadsticks. Anyway, onto the recipe. Feel free to let me know your thoughts in the comments, and happy keto cooking!
Keto Cheesy Cauliflower Breadsticks Recipe
Prep Time: 5-10 minutes
Cook Time: ~30-40 minutes
Total Time: ~45-50 minutes
Nutrition Facts
Serving Size: 3-4 breadsticks
Ingredients
12 oz riced cauliflower
2 eggs
1 3/4 cups shredded mozzarella
1/4 cup shredded parmesean
Salt
Pepper
Parsley
Basil
Garlic powder
Additional mozzarella to add on top
Instructions
Preheat oven to 420.
Line 13"x9" baking dish with parchment paper.
Combine all ingredients in a bowl except for 1/2 cup of mozzarella, which will be sprinkled on top. Add amounts of seasonings according to your tastes.
Mold your breadstick mixture in the pan.
Bake for 30-40 minutes or until cheese browns on top.
Remove from oven, allow to cool, and use a pizza cutter to create anywhere between 15 and 24 breadsticks, depending on how large you want them to be.