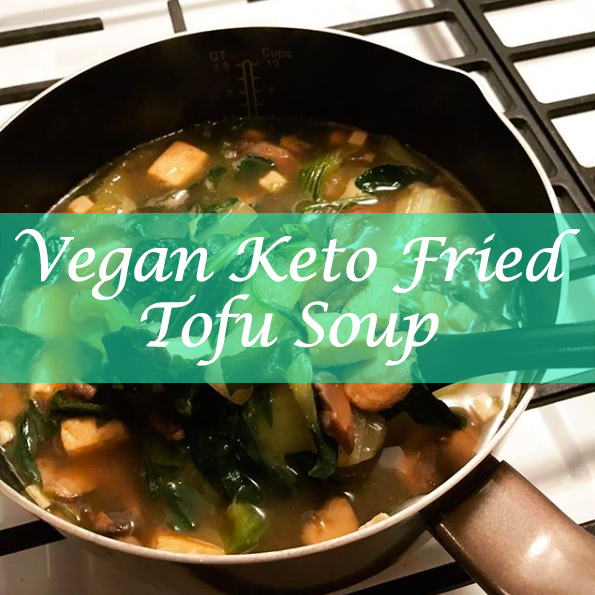 Fried tofu soup is a dinner I make often, and I've gotten a few requests for the recipe on my Instagram. It's vegan, keto-friendly, and delicious, so what more could you want?
I've never followed a recipe when making this, but I decided to keep track of what amounts of ingredients I used. You do not have to follow this recipe exactly! Use the vegetables you have on hand, and feel free to add more. I sometimes add mushrooms, baby corn, and bean sprouts. You can also try a dash of rice vinegar and a sprinkle of monkfruit sweetener. Amounts vary depending on how sour or sweet you want your soup to be, but feel free to experiment according to your own tastes! 
There are many miso soup recipes that use real miso online, but this recipe uses an instant miso soup packet. The brand Edward & Sons makes a vegan miso soup. If you are a pescatarian or an omnivore, you can use Kikkoman Instant Tofu Miso Soup, which contains bonito (fish) and is my brand of choice. If you are using miso paste, 2 tablespoons is a decent amount. Up to 4 will add more flavor if you are less concerned about the carbs. I like to use awase miso by Miko and add Emerald Cove's wakame (dried seaweed), which you'll need if you want seaweed and aren't using an instant miso packet. You can omit the miso entirely if you'd like to lower the net carbs a bit.
Non-vegans can also add additional protein by frying an egg and topping the bowl of soup with it. Adding a drizzle of sriracha to your egg makes it extra tasty! To see all the iterations I've made of this soup, follow @pescatarian.keto on Instagram. Continue reading "Recipe: Vegan Keto Fried Tofu Miso Soup with Bok Choy"