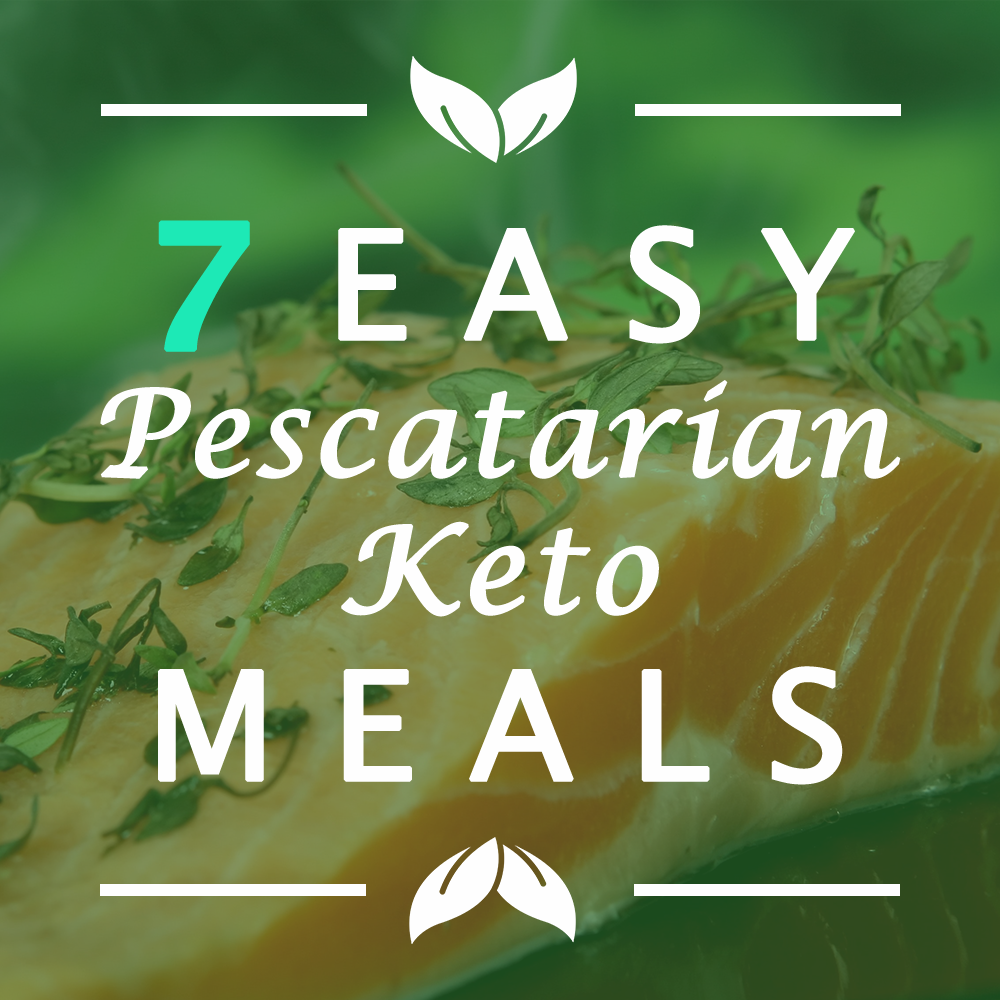 People often ask me what I eat on the ketogenic diet because they find it surprising that I'm able to follow it as a pescatarian, meaning I eat fish but not meat. I always explain I love my pescatarian keto lifestyle and that my food choices aren't limited at all! (Check out the Pescatarian Keto Shopping List to see what fresh foods I buy and what I keep in my pantry.)
I decided to write a post featuring seven simple keto meals that I eat regularly to quell curiosity and to give other keto pescatarians a few ideas. If you have basic cooking abilities, you shouldn't have much trouble whipping up these meals. I often cook by just winging it rather than following precise recipes. This isn't a true recipe post, though I will happily write complete, detailed recipes for any of these items if anyone requests it in the comments.
The majority of these are also vegetarian keto recipes, and they can be enjoyed by meat eaters as well. Anyway, here are my seven easy pescatarian or vegetarian keto meals! For more ideas, follow @pescatarian.keto on Instagram.
1. Baked salmon with sautéed spinach
Salmon is one of my favorite fishes, and luckily it's also ideal for the keto diet (especially a pescatarian one) because it's high in good fats. See my article What Are the Best Fatty Fishes to Eat on the Ketogenic Diet? to learn which fishes have high fat content and which don't. Usually I feel full after about 2/3 lbs to 1 lb of salmon unless I have side dishes other than spinach to fill me up.
I combine salt, pepper, and basil with extra virgin olive oil and slather my salmon with the mixture. I place the filets in a pan lined with parchment paper, which makes cleanup super easy. I bake the salmon at 420 degrees for about 20-25 minutes. For the side dish, I sauté a 5 or 6 oz bag of spinach with salt and garlic powder. Often, I cover my salmon filets with the spinach because the combination is so tasty.
2. Trader Joe's Palek Paneer stirred into cauliflower rice
Before I started the keto diet, the frozen Palek Paneer from Trader Joe's along with quinoa was one of my favorite meals. After going keto, I was happy to learn that an entire package of Palek Paneer (two servings, but I usually finish it off) contains 8g net carbs (16g total with 8g from fiber), 18g protein, and 34g fat! Of course, I had to find a replacement for the quinoa, so I sautee riced cauliflower (also available at Trader Joe's) with extra virgin olive oil, garlic salt, and pepper. Depending on how much cauliflower I use, the total net carbs for the meal are 10-12g, which sounds a bit high, but it's filling (the spiciness of the Palek Paneer really helps with fullness) and usually my biggest meal of the day. I also like this meal with cabbage in place of the cauliflower rice.
3. Baked tofu with veggies on the side
Unless you choose not to eat soy, you'll probably end up eating a decent amount of tofu if you follow a vegetarian keto diet. Tofu is not particularly high in fat, but it is low in carbs, and you can add fat to your meals in other ways such as cooking with liberal amounts of oil or butter.
When I bake tofu, I like to cover the cubes with a mixture of extra virgin olive oil, soy sauce, and hot sauce (I eye the amounts). I place my cubes on a metal tray lined with parchment paper and bake them at 400 degrees. After about 10 minutes, I flip my tofu and slather more of the olive oil mixture on the other side. I leave the tofu in the oven until I feel that it's sufficiently dry and baked, often flipping multiple times.
Any keto-friendly vegetable like cabbage, zucchini, cauliflower, broccoli, or bok choy makes a great companion to the baked tofu when stir fried with soy sauce. If I have leftover tofu, I usually snack on it cold, which is possibly more delicious than eating it warm. And hey, this also counts as a vegan keto meal!
4. Fried cauliflower with kimchi
Fried rice with kimchi was another food I knew I'd miss on keto, but luckily, I found that it was basically the same with riced cauliflower! I typically fry the cauliflower and kimchi with spinach and 2-3 eggs. Thanks to the strong taste of the kimchi, you don't need much seasoning, but I'll sometimes add garlic powder. If I have any fish or shrimp on hand, I'll add it. Tofu is great with this as well if you're a vegetarian.
I love Trader Joe's kimchi, which is made with fish sauce, but if you need a vegetarian alternative, I also enjoy Mrs. Kim's Vegan Napa Cabbage Kimchi. Amazon has a few kimchi options if you can't find it at your local grocery store. Kimchi does have a few carbs per serving, so be careful with your portion sizes.
5. Fried Tofu Soup with Miso and Bok Choy
Here's another vegan keto idea. Fry some tofu in olive oil until golden brown and add it to vegetable broth along with the veggies of your choice. I like to use mushrooms, cabbage, and bok choy. You can even add baby corn, which is low in carbs unlike regular corn! For flavor, I add soy sauce, garlic powder, and sometimes sriracha as well as an instant miso soup packet. This is a dish I make often since I always have tofu in my fridge and can add any combination of vegetables to this soup.
I always got requests for the recipe when I posted photos of it on my Instagram, so you can now find it here: Vegan Keto Fried Tofu Miso Soup with Bok Choy.
6. Veggie dogs with sauerkraut in lettuce wraps
I love the vegetarian hot dogs made by Lightlife, and with only 1g net carbs per dog, they're a great vegetarian keto food. They can be found at most traditional grocery stores as well as Trader Joe's. I'm also obsessed with the raw sauerkraut you can buy at Trader Joes, which is enhanced by the addition of pickles. When I started my keto diet, I didn't want to stop eating my veggie dogs, so I replaced the buns with lettuce wraps. On its own, this isn't a very filling meal, so try my Keto Cauliflower Au Gratin as a side dish!
7. Three-egg omelette with sautéed spinach and sardines inside
Omelettes are a staple for anyone on the keto diet, especially keto vegetarians and pescatarians. I typically make my omelettes with three eggs, which I whisk in a bowl until bubbles form. Adding almond milk is my favorite way to make my eggs nice and fluffy. Heavy whipping cream or half and half works as well. I also like to mix in salt, garlic powder, pepper, and a little hot sauce.
Separately, I sautee spinach (usually an entire 6ox bags) with garlic powder and salt, and I add my Wild Planet sardines to the pan. This mixture goes inside my omelette before I fold it. If I don't have sardines, I may use cheese.
More Ways to Make the Pescatarian Keto Diet Easy
For additional recipe ideas, I strongly suggest checking out the Pescatarian Keto Pinterest! I have a board dedicated to Vegetarian Keto Recipes and another for Keto Fish Recipes that don't include any meat in addition to a few other boards you'll probably find interesting.
What pescatarian and vegetarian keto meals do you find yourself eating week after week? Let me know in the comments!
Pin It for Later