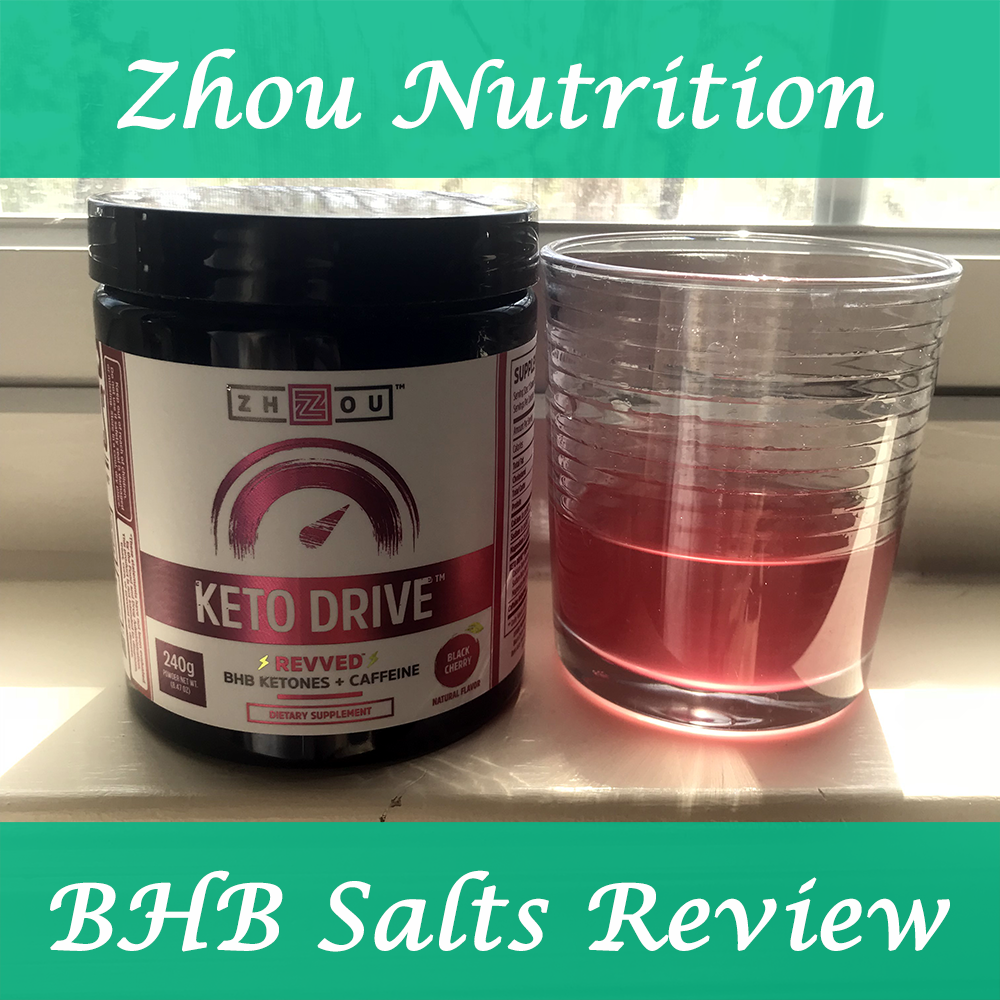 Keto Drive BHB salts by Zhou Nutrition were the first exogenous ketones that I used to supplement my pescatarian ketogenic diet. I was new to keto and had heard that exogenous ketone supplements helped with the symptoms of "keto flu," so I decided to give them a try.
As I review the three available flavors of Keto Drive, I'll also discuss the effects I felt from taking these exogenous ketone supplements.
Keep reading to find out which one I liked best!
Keto Drive BHB Salts Orange Mango Review
I had heard that ketone supplements taste terrible, so I wasn't sure what to expect when I stirred my Orange Mango Keto Drive into a glass of water. One of my reasons for ordering this flavor first was an Amazon review that said Orange Mango was more enjoyable than the average ketone supplement. (My other reason was that Orange Mango was on sale.) Once the powder was all dissolved, I tasted the drink and was pleasantly surprised by its sweet and tangy flavor, which only had a slight weird aftertaste. It's hard to identify what the aftertaste is. Maybe the issue is just that the flavors taste artificial to me, and there's a slight chalkiness.
I later learned that ketone ester supplements are known to taste terrible, but ketone salt supplements like Keto Drive are different. All the ketone supplements that are readily available for consumers are BHB salts. That's not to say everyone enjoys drinking their Keto Drive. One question from a user on the Amazon page asks how to make the drink taste better, and the reply suggests adding stevia. Personally, I did not find this necessary as the drink was very easy for me to drink.
More impressive than the taste was the energy that resulted from taking Keto Drive. It was like being caffeinated, but Orange Mango doesn't have any caffeine added. My Perfect Keto ketone testing strips also turned dark maroon only thirty minutes after I finished my Orange Mango beverage. A container of Keto Drive contains 16 servings and comes with a little scooper so you can measure your dose.
Keto Drive Matcha Lemonade Review
I stuck with Orange Mango for a while, partly because I thought I might've stumbled upon the one exogenous ketone product that tasted good, but in the end, my curiosity won, so I ordered Matcha Lemonade.
After using exogenous ketones for a few weeks, I had developed a superior method for dissolving my Keto Drive BHB salts: creating a simple funnel out of paper (if necessary), adding the scoop to a water bottle, and shaking it. This turned out to be way more effective for dissolving it than stirring it into a cup. Anyway, when I tasted Matcha Lemonade, I fell in love instantly. The matcha flavor isn't strong compared to the lemonade flavor, but regardless, I was shocked at how amazing my drink tasted. There was none of the chalkiness I experienced with the Orange Mango. The Matcha Lemonade was purely refreshing and delicious.
Keto Drive Revved – Black Cherry Review
The "Revved" Keto Drive, which comes in Black Cherry, is the only caffeinated flavor, and it was the final flavor of Keto Drive for me to try. As I have a caffeinated beverage every morning, combining caffeine with exogenous ketones is convenient for me. At the same time, I could see myself potentially forgoing caffeine in favor of exogenous ketones due to the energy they give me.
Unfortunately, I'm not as crazy about it as I could be. I definitely find it enjoyable to drink, but it reminds me of medicine. That said, there's nothing seriously negative about it! I don't detect any odd aftertaste. Still, I find Orange Mango and Matcha Lemonade both to be more refreshing, and Matcha Lemonade remains my favorite flavor of Keto Drive. It was unlikely that Black Cherry would be able to compete. While Orange Mango and Black Cherry are both decent, I wouldn't choose to drink them for their taste; their value lies in the fact that they're exogenous ketone supplements. With Matcha Lemonade, it's different. I feel disappointed when I have no more of it to drink.
Where to Buy Keto Drive BHB Salts
You can buy Keto Drive on Amazon or on Zhou Nutrition's website for $58.97. That price gets you a container with 16 servings. Exogenous ketones aren't cheap, and the price of Keto Drive is comparable to that of similar products such as Perfect Keto's BHB salts for $58.99 (I've also reviewed Perfect Keto Base). There are ways to save on your Keto Drive. After my last purchase on Amazon, I received a promo code for 10% off. If you subscribe to receive Keto Drive BHB salts monthly, you can save 5%.
If you're interested in the benefits of exogenous ketones, you'll find that the price is worth it. Wondering why the cost is so high? There are a few genuine reasons that Perfect Keto explains in this blog article: Why Exogenous Ketones Are Expensive and How They Save You Money.
Personally, I can't wait to order and receive my next shipment of Matcha Lemonade BHB salts. Have you tried Zhou Nutrition's Keto Drive or another brand of exogenous ketone supplements? What did you think? Let me know in the comments!